Quick Heal Internet Security 3 User 3 Years - For PC & Laptop
Introducing Quick Heal Internet Security Antivirus - your ultimate shield against cyber threats. With its advanced technology and comprehensive features, this antivirus ensures that you browse, shop, and bank online with utmost confidence.
With a license for 3 User for 3 Year, Quick Heal Internet Security Antivirus is the perfect choice for individuals seeking top-notch protection. Whether you use your device for work or leisure, this software guarantees a seamless experience without compromising on security.
Say goodbye to viruses, malware, and other online threats that can put your sensitive information at risk. Quick Heal's robust scanning engine tirelessly examines all incoming and outgoing data to detect and eliminate any potential threats, leaving your device clean and secure.
But that's not all - this antivirus goes the extra mile to safeguard your privacy. Its enhanced privacy protection features ensure that your personal information, including passwords and banking details, remain encrypted and inaccessible to prying eyes.
Never worry about falling victim to phishing attempts or fraudulent websites again! Quick Heal actively monitors and blocks suspicious URLs, protecting you from identity theft and fraudulent activities. Browse the internet with peace of mind, knowing that you are shielded from cybercriminals who are constantly seeking to exploit vulnerabilities.
In addition, Quick Heal Internet Security Antivirus offers seamless and hassle-free browsing, thanks to its 24/7 real-time updates and cloud-based technology. Stay ahead of emerging threats and enjoy uninterrupted online sessions without compromising your device's performance.
---
Quick Heal Internet Security 3 User 3 Year License key will be sent to your Registered Email & WhatsApp within 1 Second of order successful. If you have not registered, please register before purchasing this product. Your product Bill also will be sent to your registered mail. For Registration Click Here.
| | |
| --- | --- |
| Quickheal Dealer Code | QH0040373 |
Use this Dealer code for installation & Renewal.
Quick Heal Internet Security Antivirus download link -
Quick Heal Toll Free details -
Toll Free - 18001217377 (Mon to Sat - 8AM to 11PM & Sunday - 9AM to 7PM)
Email - support@quickheal.com (Mon to Sat - 9AM to 7PM)
---
How to Download Quick Heal Internet Security Setup 32 bit / 64 bit with key -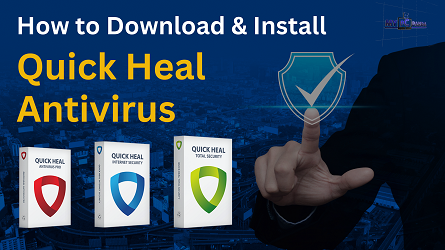 ---
Quick Heal Internet Security Antivirus Key Points -
Valid for 3 User & 3 Year.
Valid for Fresh Installation only.
Automatically Deliever in 1 Second only on Email & WhatsApp. .
GST Bill.
Secures your financial transactions on the internet.
Automatically blocks infected, fake and phishing websites and emails.
Backs up all your important data so that you never lose out on anything.
Allows you to control the internet browsing of your children and restrict them from visiting unwanted websites.
For technical assistance, please call on 18001217377.
Quick heal internet security is a Best Antivirus in its range.
Our Website MY PC PANDA is offerring lowest price of Quickheal Antivirus.
Note -
Quick Heal Internet Security 3 User 3 Year pack is Valid on Fresh Installation only.
---
How to Buy Quick Heal Internet Security Antivirus 3 User 3 Year Key?
Login with our website .

Select Quick Heal Internet Security 3 User 3 Year Antivirus.

Click on Buy Now Button.

Click on Proceed to Checkout Button.

Click on Pay Now Button.

Select your Payment method & Pay.

Automatically deliver in 1 second only (on Email & Whatsapp).

Valid for both Fresh Installation & Renewal.

Valid on 3 PC for 3 Year.

GST Bill @18%. (You will get Bill on Email).
---
Quick Heal Internet Security Features -
RANSOMWARE PROTECTION

Real-time multi-layer ransomware protection with smart data backup and restore features.

ADVANCED DNASCAN

Detect and block unknown threats with behavioral and characteristic inspection.

MALWARE AND VIRUS PROTECTION

Multi-layered protection against zero-day attacks, virus, phishing, and malware.

SAFE BANKING

Advanced feature to protect your online banking and shopping activities.

EXTERNAL DRIVE PROTECTION

Block malware that may infiltrate through external drives and infect your system.

FIREWALL PROTECTION

Protect your network from the latest threats with features that secure your unique environment.

VULNERABILITY SCAN

Scan for security/vulnerability holes in your system and get the best fix with just one click.

ANTI-MALWARE

Scans thoroughly to detect and clean malware and other potential threats in your computer.

BROWSING PROTECTION

Enjoy safe browsing experience by blocking risky sites from advanced attacks.

SMART SCAN ENGINE

Scans files and folders in lesser time without using too much system resources.

IDS/IPS

Analyze your network for signatures that match known cyberattacks and take actions to block it.

WI-FI SCANNER

Assess the security of your Wi-Fi network and router, no matter where you connect.

ANTI-KEYLOGGER

Prevent hackers from stealing your data without your consent with just a few clicks.

DATA THEFT PROTECTION

Restrict unauthorized USB port access and prevent data theft.

PARENTAL CONTROL

Restrict inappropriate websites/apps for your children and give them a safe browsing experience.

TRACK YOUR LAPTOP

Reliable way of tracking your lost or stolen laptop. Get yourself registered today with Quick Heal.

QUICK HEAL REMOTE DEVICE MANAGEMENT (RDM)

Get alerts and manage your remote devices with just a few clicks.

HIJACK RESTORE

Easily restore the browser default settings modified by malware or spyware.

TRACK CLEANER

Clean file and document tracks that you work on to prevent privacy breach.
---
Specifications
| | |
| --- | --- |
| Feature | Descreption |
| Antivirus Type | Internet Security |
| Model | Internet Security 3 PC / 3 Year |
| User Supported | 3 User |
| Validity | 3 Year |
| Delivery Time | Instant Delivery (1 Second only) |
| License Type | Digital License |
| Version | Latest Version |
| Package Include | License Key |
| Brand | Quickheal |
| Language | English |
| Country | INDIA |
| Operating System | Windows |
System Requirement for Quick Heal Internet Security -
Operating System

Windows 11, 10, 8.1, 8 & 7

Hardware

General

2.3 GB disk space
Internet Explorer 6 or later
Internet connection to receive updates
Minimum screen resolution 1024 * 768

RAM

4 GB (for Windows 11)
1 GB for 32 bit (for Windows 10/8.1/8
2 GB for 64 bit (for Windows 10/8.1/8)

Processor
Tags -
Quick Heal Internet Security 3 User 3 Year
Quick Heal Internet Security 3 User 3 Years Price
Buy Quick Heal Internet Security 3 User 3 Year
3 Pc 3 Years Quick Heal Internet Security Antivirus
---