Guradian Netsecure Antivirus 1 PC 1 Year - Latest Version
Guardian NetSecure Antivirus is the hot selling antivirus in INDIA. License key will be sent to your Registered Email & WhatsApp within 1 Second of order successful. If you have not registered, please register before purchasing this product. Your product bill will be sent to your registered mail. For Registration Click Here.
---
Guardian NetSecure Setup Download 32 bit / 64 bit Link -
Guardian Toll Free contact details -
Toll Free - 18001217377 ( Mon to Sat - 8AM to 11PM & Sunday - 9AM to 7PM )
Email - support@quickheal.com ( Mon to Sat - 9AM to 7PM )

Guardian Net Secure Key Points -
Valid for 1 PC & 1 Year only.
Valid on both Fresh Installation & Renewal also.
Key will be provided digitally on Email & Whatsapp.
Highlights -
Detects and removes programs called spyware that steal personal data.
Detects malware and other hidden threats in your system.
Blocks access to infected websites.
Prevents Guardian's running processes and services from getting tampered.
Prevents you from landing on websites that have hidden malware and other malicious codes. Blocks external threats that try to reach your system over the Internet.
Detects and blocks viruses, Trojans and other hidden threats in your system. Detects and removes malicious programs called spyware that steal personal and financial details.
Automatically scans USB drives for malware infections as soon as they are plugged into your PC. Detects and removes unwanted and potentially dangerous software hiding in your machine.
---
Guardian NetSecure Antivirus Features -
Virus Protection

Ever vigilant, Virus Protection keeps scanning your files, documents, and system folders for malware or virus. Any new file is scanned without exception.

Ransomware Protection

Provides complete protection to your important data against critical ransomware attacks. It detects and blocks unknown ransomware attacks in real time backed up by Behaviour Detection Technology.

Advanced DNAScan

DNAScan technology detects and blocks unknown threats. It uses a combination of behavioral and characteristic inspection and monitoring of unsafe programs.

Scan Options

Offers a number of scan options. You can scan on demand, schedule regular scanning, or scan certain files and folders.

Browsing Protection

Automatically detects unsafe and potentially dangerous websites and prevents you from visiting them.

Firewall Protection

Firewall blocks external threats that try to reach your computer over the Internet. It also blocks threats that may arise within networks that are connected to your system. Besides allowing you to configure protection for incoming and outgoing Internet traffic, our enhanced Firewall lets you set a Firewall profile for network connections such as 'Home', 'Work', 'Public' or 'Restricted'. Stealth Mode is an added benefit. It hides your PC from the prying eyes of hackers.

Import and Export Settings

You can export Guardian security settings from a single computer and import it to other computers. This is helpful in cases where reinstallations or multiple computer configurations are concerned.

IDS/IPS

Prevents unwanted intrusion attempts or attacks by hackers.

Email Protection

Efficiently blocks emails that might carry infected attachments or links to compromised or fake and phishing websites.

USB Drive Protection

Stops autorun malware of the USB drive to curb spread of malware to your computer.

External Drive Protection

Blocks viruses and malware that may infiltrate through external drives including CDs, DVDs, and USB-based devices.

Scan External Drives

Scans external drives automatically as soon as they are plugged into your computer for malware or virus.

Malware Protection

Protects your PC against spyware, adware, keyloggers, riskware, and other malicious programs.

Anti Malware

Scans registry, files and folders thoroughly to detect and clean spyware, adware, rogueware, dialers, riskware, and many other potential threats in your computer.

Anti Rootkit

Scans objects such as running processes, Windows registry, and files and folders for any suspicious activity and detects rootkits without any signatures.

Smart Scan Engine

Scans files and folders in lesser time without using too much system resources.

Safe Mode Protection

This facility stops unauthorized users from changing Guardian security settings when the system is running on Safe Mode.

Automatic Backup

Ransomware Protection provides an additional layer of protection by supporting automatic smart backup that saves you from losing any important data in case of a ransomware attack. The feature automatically creates a backup of all your important files and also allows copying of backup to external devices, for easy restoration even if your system gets compromised.

Registry Restore

Allows you to restore critical system registry entries and other areas from the changes made by malicious programs. It also repairs the system registry.

Enhanced Self-Protection

Protects Guardian's running processes and services.

Auto Silent Mode

Suppresses prompts and notifications from Guardian for uninterrupted PC usage. This does not affect the security level of your system.

System Explorer

Allows you to diagnose the computer system for any new malware or riskware and resolve the issues.

Track Cleaner

Clean tracks of the files and documents that you work on to prevent privacy breach.

Hijack Restore

Helps you restore the default settings of Internet Explorer modified by malware, spyware, or even by you.

Anti-Keylogger

Efficiently prevents programs called keyloggers from recording what you type on your keyboard while you are doing online banking or shopping or simply browsing the Internet.
---
Specifications
Gurdian Net Secure Antivirus Specifications

| | |
| --- | --- |
| Type | Antivirus |
| Number of PC | 1 PC |
| Media | Download Online |
| Model | Guardian NetSecure Antivirus 1 PC / 1 Year |
| Validity | 1 Year |
| Version | Latest Version |
| Brand | Guardian |
| Operating System | Windows |
| Origin Country | INDIA |
System Requirements for Guardian Netsecure installation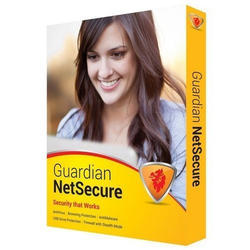 To use Guardian NetSecure, you must ensure the following requirements.
General requirements

1.2 GB disk space
Internet Explorer 6 or later
Internet connection to receive updates
Minimum screen resolution 1024 * 768

System requirements for various Microsoft Windows OS

Windows 10 & 11

Processor: 1 gigahertz (GHz) or faster
RAM: 1 gigabyte (GB) for 32-bit or 2 GB for 64-bit

Windows 8.1 / Windows 8

Processor: 1 GHz or faster
RAM: 1 GB for 32-bit or 2 GB for 64-bit

Windows 7

Processor: 1 GHz or faster
RAM: 1 GB for 32-bit or 2 GB for 64-bit

Windows Vista

Processor: 1 GHz or faster
RAM: 1 GB

Windows XP (Service Pack 2 and later)

Processor: 300 Megahertz (MHz) Pentium or faster
RAM: 512 MB

---