Protect your computer against malicious threats with Quick Heal Antivirus Pro 1 user 1 year. This comprehensive security suite is designed to protect your PC & Laptop from viruses, spyware, and other malicious programs. It features real-time protection, an advanced firewall, and a powerful anti-spam engine. Quick Heal Antivirus Pro is designed to give you peace of mind and protect your computer from any and all threats. Get Quick Heal Antivirus Pro 1 user 1 year and have the confidence that your computer is secure.
Quick Heal Antivirus Pro is the most popular antivirus in INDIA. License key will be sent to your Registered Email & WhatsApp within 1 Second of order successful. If you have not registered, please register before purchasing this product. Your product Bill will be sent to your registered mail. For Registration Click Here.
| | |
| --- | --- |
| Quickheal Dealer Code | QH0040373 |
Use this Dealer code for instalation & Renewal.
Quick Heal Antivirus Pro Setup download 32 bit / 64 bit -
Quick Heal Toll Free Number -
Toll Free - 1800 121 7377 ( Mon to Sat - 8AM to 11PM & Sunday - 9AM to 7PM )
Email - support@quickheal.com ( Mon to Sat - 9AM to 7PM )
---
Key Points -
Valid on 1 User for 1 Year.
Valid for both Fresh Installation only.
Automatically Deliever in 1 Second only on Email & WhatsApp.
GST Bill.
It is tough on viruses, light on your PC.
Protects your data from data-stealing malware.
Stops unknown threats that traditional antivirus software cant.
For technical assistance, please call on 1800 121 7377.
Quick heal Antivirus Pro is a Best Antivirus in its range.
Our Website MY PC PANDA is offerring lowest price of Quickheal Antivirus.
---
How to download, install & activate Quick Heal Antivirus?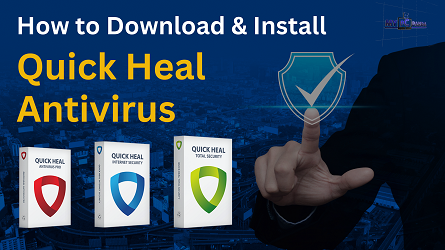 ---
Download Quick Heal Pro Antivirus - Step by Step
Quick Heal Antivirus Pro Setup download link. Click Here

Enter the "Quick Heal Pro Antivirus Key" & click "Submit".

Click on "1st option Download" (for Windows 10 or 11). Click the "2nd option Download" - For Windows 7.

You will get the "Latest Quick heal Pro Antivirus" Setup Downloader.
---
How to Install Quick Heal Pro Antivirus in Laptop / Desktop?
Double click on "Quick Heal Setup Downloader" (which we have downloaded).

Click "Yes" on administrative notification.

Click the check box of "User License Agreement & Privacy policy" and click on the button "Let's start".

Latest setup "downloading & installation" process will start.

It will ask for installation location, don't change location and "Click Continue".

Your "Quick Heal Pro Antivirus" gets installed.
---
How to activate Quick Heal Pro Antivirus?
Open 'Quick Heal Antivirus'

Click on 'Activate Now'

Click on 'Yes'

Enter the 'Product key'. Enter dealer code (QH0040373)

Enter your information & 'Click Register'
---
How to Buy Quick Heal Pro Antivirus 1 User 1 Year Key?
Login with our website

Select "Quick Heal Pro 1 User 1 Year" Antivirus

Click on "Buy Now" Button

Click on "Proceed to Checkout" Button

Click on "Pay Now" Button

Select your "Payment method & Pay"

Automatically deliver in "1 second only" (on Email & Whatsapp)

Valid for both "Fresh Installation & Renewal"

Valid on "1 PC for 1 Year"

"GST Bill" @18%. ( You will get Bill on Email)
---
Quick Heal Pro Antivirus Features -
RANSOMWARE PROTECTION

Real-time multi-layer ransomware protection with smart data backup and restore features.

ADVANCED DNASCAN

Detects and blocks unknown threats with behavioral and characteristic inspection.

MALWARE AND VIRUS PROTECTION

Multi-layered protection against zero-day attacks, virus, phishing, and malware.

EXTERNAL DRIVE PROTECTION

Block malware that may infiltrate through external drives and infect your system.

FIREWALL PROTECTION

Protect your network from the latest threats with features that secure your unique environment.

VULNERABILITY SCAN

Scan for security/vulnerability holes in your system and get the best fix with just one click.

ANTI-MALWARE

Scans thoroughly to detect and clean malware and other potential threats in your computer.

BROWSING PROTECTION

Enjoy safe browsing experience by blocking risky sites from advanced attacks.

SMART SCAN ENGINE

Scans files and folders in lesser time without using too much system resources.

IDS/IPS

Analyze your network for signatures that match known cyberattacks and take actions to block it.

DATA BACKUP

Ransomware Protection automatically creates a backup of all your data on your PC. You can easily restore your data in case your system is ever compromised.

ANTI-KEY LOGGER

Prevents hackers from stealing your data without your consent with just a few clicks.

TRACK YOUR LAPTOP

Reliable way of tracking your lost or stolen laptop. Get yourself registered today with Quick Heal.

QUICK HEAL REMOTE DEVICE MANAGEMENT (RDM)

Get alerts and manage your remote devices with just a few clicks.

HIJACK RESTORE

Easily restore the browser default settings modified by malware or spyware.

TRACK CLEANER

Clean file and document tracks that you work on to prevent privacy breach.
---
Specifications -
Quick Heal pro specifications

| | |
| --- | --- |
| Type | Antivirus |
| Model ID | Pro 1 PC / 1 Year |
| User | 1 User |
| Validity | 1 Year |
| Media | Online Download |
| Version | Latest Version |
| Package Include | License Key |
| Brand | Quicheal |
| Operating System | Windows |
| Country | INDIA |
---
Quick Heal Pro Antivirus Price List -
---