7 New Features in Windows 11
13 February 2023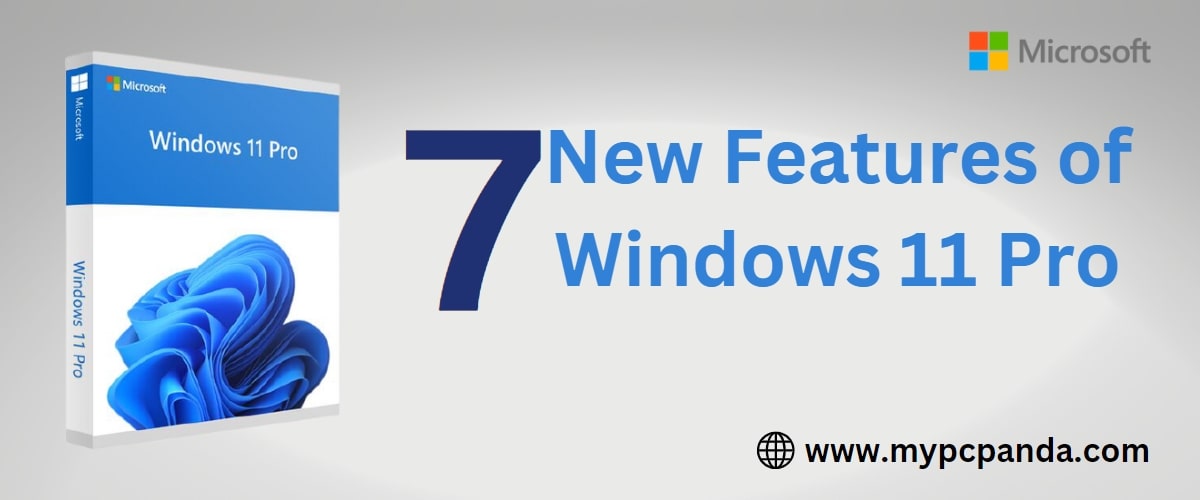 Windows 11 Pro is a latest major version of the Windows and is the successor to Windows 10 Pro, which was released in 2015. Windows 11 released on October 5, 2021.
Windows 11 has all the power and security of Windows 10 with a redesigned and refreshed look. It also comes with new tools, sounds, and apps.
So far, it's shaped up to be an incredible and promising operating system, even if there are still opportunities for deeper improvements. This promises to be the Windows version that everyone loves.

New features in Windows 11 Pro-
A new, more Mac-like interface
Windows 11 features a clean design with rounded corners, pastel shades, and a centered Start menu and Taskbar.
Integrated Android apps
Android apps Windows 11 via the Amazon Appstore, which will be accessible from within the updated Store. There were a couple of ways to access Android apps on Windows 10, especially if you had a Samsung Galaxy phone, but this will make it native. (Note that Android apps will not be available upon the initial release of Windows 11.)
Widgets
While they've been around for a while (remember desktop gadgets on Windows Vista?), including in a recent Windows 10 update, you can now access widgets directly from the Taskbar and personalize them to see whatever you'd like.
Teams integration
Teams is getting a face-lift and is pinned on the Windows 11 Taskbar, making it easier to access (and a bit more like Apple's FaceTime). You'll be able to access Teams from Windows, Mac, Android or iOS.
Xbox tech for better gaming
Windows 11 will get certain features found in Xbox consoles, like Auto HDR and DirectStorage, to improve gaming on your Windows PC.
Better virtual desktop support
Windows 11 will let you set up virtual desktops in a way that's more similar to macOS, toggling between multiple desktops for personal, work, school, or gaming use. You can also change your wallpaper on each virtual desktop.
Easier transition from monitor to the laptop, and better multitasking
The new OS includes features called Snap Groups and Snap Layouts — collections of the apps you're using at once that sit in the Taskbar, and can come up or be minimized at the same time for easier task switching. They also let you plug and unplug from a monitor more easily without losing where your open windows are located.
Key Points of Windows 11 Pro Product key -
Windows 11 Pro Product Key will activate Windows 11 Pro on one PC.
It will work on fresh or existing installations of Windows 11.
This is a one-time purchase, no monthly/annual subscription or renewal is required.
It supports all languages and works worldwide. Both 32-bit and 64-bit System Support.
As this is a retail key you can also use it to upgrade your Windows 11 Home edition to Pro.
Please Check Windows 10 Pro Product Key And Quick Heal Total Security Antivirus also.